Event Security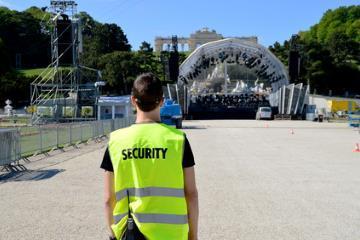 An important part of our service is the area of event security. Whether it is small function or large event, it is very rare these days to be without the presence of stewards.


Again SKID Security Ltd. can provide extensive longterm proof of experience in this area:
Protection and security for trade fairs, congresses, exhibitions, sport and cultural events
Protection and security for street celebrations and parties
Stewards- cashier and admission duties
Cordoning off of special areas (stage security)
Reception and information service
Traffic regulation
Carpark security with and without cashier
At short notice, we can provide up to 50 employees for longer periods of time. Again in this area we would gladly take on the general supervision of the event to include the planning, co-ordination and guaranty of the entire of affairs, from arrangements to security.
INVEST IN THE RIGHT AREAS AND CHOOSE OUR FAVOURABLY PRICED AND QUALIFIED EMPLOYEES TO GUARANTEE A SUCCESSFUL EVENT:
Take advice on our meticulous security concept to ensure a complete success!