Exhibition Hostesses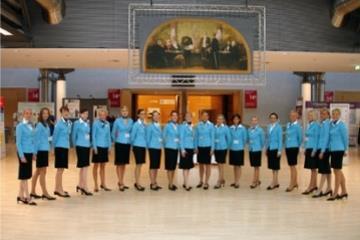 Our hostess service is available for various fixtures such as: trade fairs, congresses, events,conferences and assemblies. As well as supplying skilled workers for specific occasions, we also organize and supervise extensive teams of staff renowned exhibitors and promoters.
Our national network enables us a flexibility to provide staff at favourable prices for the following areas:
Trade fairs-stand information dutie
Registration
Catering service
Cloakroom
Info-counter
VIP guest supervision
Admission
Interpreter
Our employees are friendly, have an attractive and well-groomed appearance and are trained regularly, leading to high standards of qualification.
If desired we can also propose a "FULL-SERVICE" offer. In other words: the initial concept through to the implementation of the entire event supervision. Hostessen - V.I.P. - Betreuung
The ability and appearance of personnel, quite often influences the impact of company at trade fairs and events, therefore it goes without saying that we provide our staff with a uniformed outfit:
Ladies suits; white blouses scarves
Appropriate evening wear for gala events